Two weekends ago, Jessica,
Kristin
,
Erin
, Jen and I went to Las Vegas!
And apparently, by writing this blog, what happens there does not always stay there?
Regardless, we had THE BEST time. Jen and I had never been to Vegas, while the Californians were old pros. They showed us all around, we laughed, we lounged, we played. It was wonderful!
My highlights:
1. Celine Dion. The catalyst for this trip in the first place! Jess and Kristin had gotten tickets over a year ago, and Erin and I got to reap the benefits. Celine rocked out with her sparkly dresses, powerhouse voice that sang some of my favorite songs from middle school, and 31-piece orchestra. Loved it!
2. Pool day at the Aria hotel. We were staying at a Marriott just off the Strip, but Jessica did great research and discovered this little gem of a pool. It was 91 degrees, so we threw on our bathing suits, staked out some lounge chairs and relaxed all day Friday.
3. The hotels. From the Bellagio, with its buffet - OMG. Eggs Benedict! Sushi! Tiramisu! - and its fountains, to the Venetian with its gondolas to the Paris with its mock Eiffel Tower to the Wynn with its gorgeous decor and super creepy Lake of Dreams show...it was like Times Square on crack meets the Disney World Epcot World Showcase.
4. Clubbing. That's right, this conservative Southern girl who had a total of two cocktails the entire trip to Vegas said CLUBBING. But not as you might think. After being accosted by club promoters day in and day out, we finally decided to be adventurous and silly and just check out the infamous Vegas club scene by going to "Tryst."
First, I made the girls watch Stefon, my favorite Saturday Night Live sketch character that makes me cry because I laugh so hard.
Then, we just went for it. We got dressed up, got in line, got our wrist bands and went in. At 10:30pm, which is basically 4pm in Las Vegas. We staked out a table outside on the patio by a gorgeous waterfall, people watched, laughed hysterically, and actually had really great conversation. So not our normal speed, but one of my favorite nights of the trip!
Note: We did not order champagne.
5. The restaurants. Who knew Vegas had such a thriving restaurant scene? Kristin, our resident foodie, did so much great research for us, that we were all set whenever it was time to dine. Dinner at Bobby Flay's Mesa Grill, breakfast at Bouchon Bakery, the aforementioned Bellagio buffet, a quirky little Chinese restaurant Red 8 - we were well fed, no doubt about it.
These girls brought so much life and encouragement to me while we were in Las Vegas. We laughed, we cried. We talked about theology and marriage and dating and family and the love of God. It was such a blessed three days, and I'm so grateful for friends to do life deeply with like these!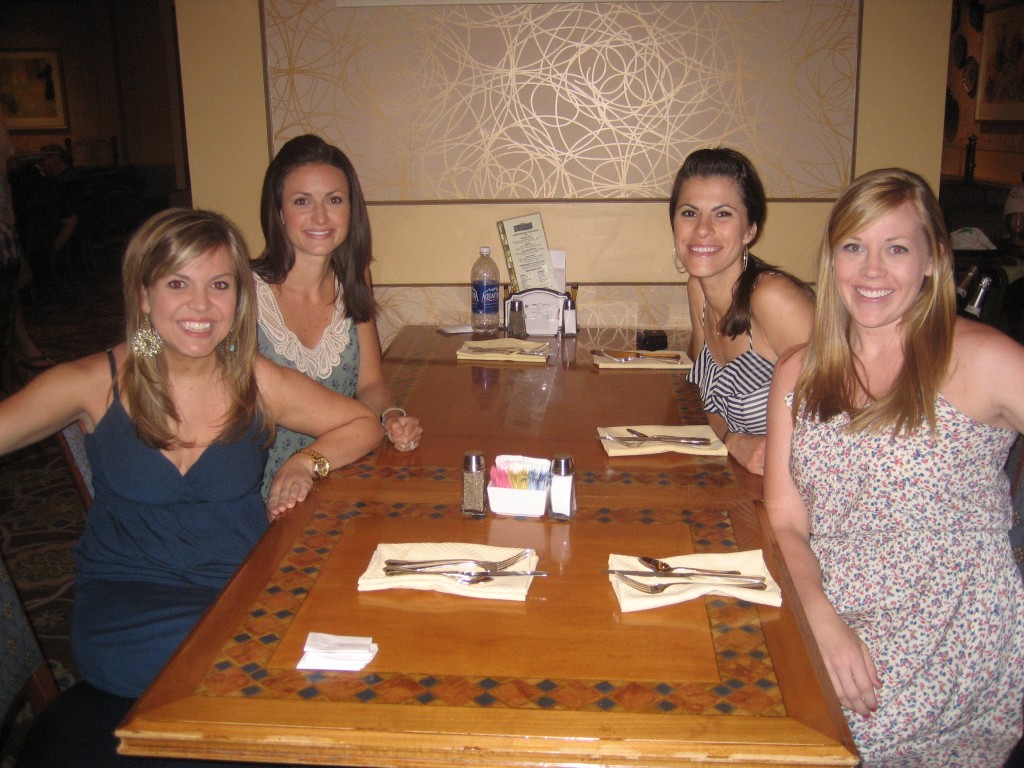 (Bonus highlight: Jayson picked me up from the airport Sunday night. Love him.)